There are literally hundreds of disabled children in our neighbourhood and there is no state welfare provision for them. With the help of donors here in Tanzania and elsewhere over the past five years, we have built and fitted out a Centre where mothers and carers can come with their children and be given help, advice, respite and encouragement, knowing that there are others in the same situation.
* Improve health and mobility through diet, exercise and hygiene.
* Enable access to medical help.
* Empower women who care for disabled children.
* Strengthen the self-esteem of children and carers.
* Show them how to support themselves
In the eight years since it was opened, the Centre has grown and extended the facilities it offers to answer the needs of the families it serves. More than 400 families have come to us for help and advice. Currently, some 100 children attend with their mothers or carers either daily or twice a week for exercises, training and advice. Facilities on site include: Exercise room, Medical room, Classroom, Laundry/washing room, Training rooms, Kitchen, Dining area, Workshop, Playground - and the Matumaini bus, provided by a generous donor.
Matumaini Centre: Ground Plan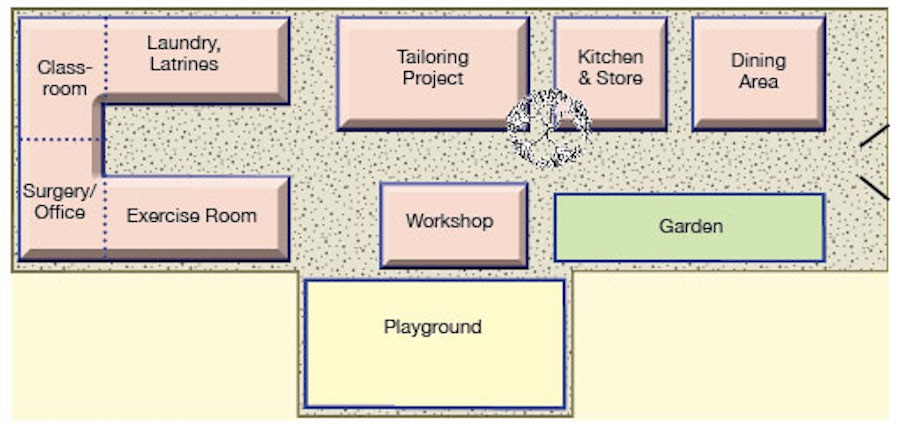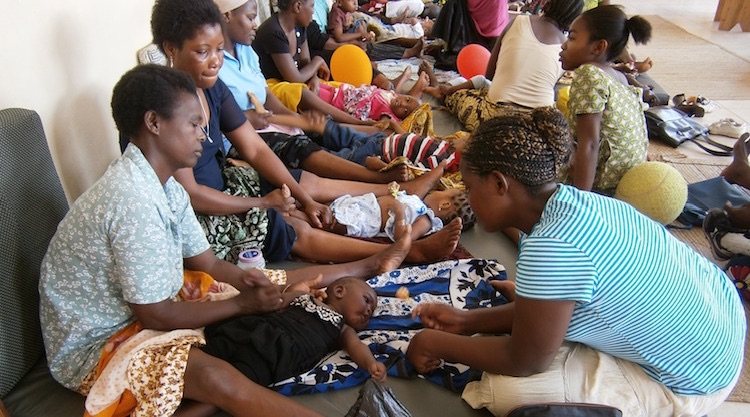 The exercise room is the busiest area of the Centre. Mothers and children gather here to help their children and strengthen their limbs with massage and exercise. Training is provided reguarly by visiting physiotherapists.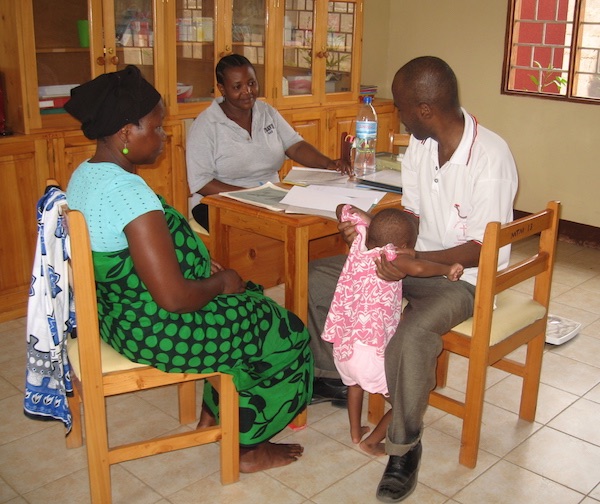 A doctor calls in regularly to check the children and monitor their progress. He advises on general problems, further treatment and specific exercises. Recently he told us 85% of the children he sees regularly have shown marked improvement many no longer need to attend though some still do and are an encouragement to others. However 50% are suffering from malnutrition and in the last 5 years 49 children have died. Over 60 children have received calipers or undergone operations to help them become more mobile and 50 are now walking who could barely sit when they first came.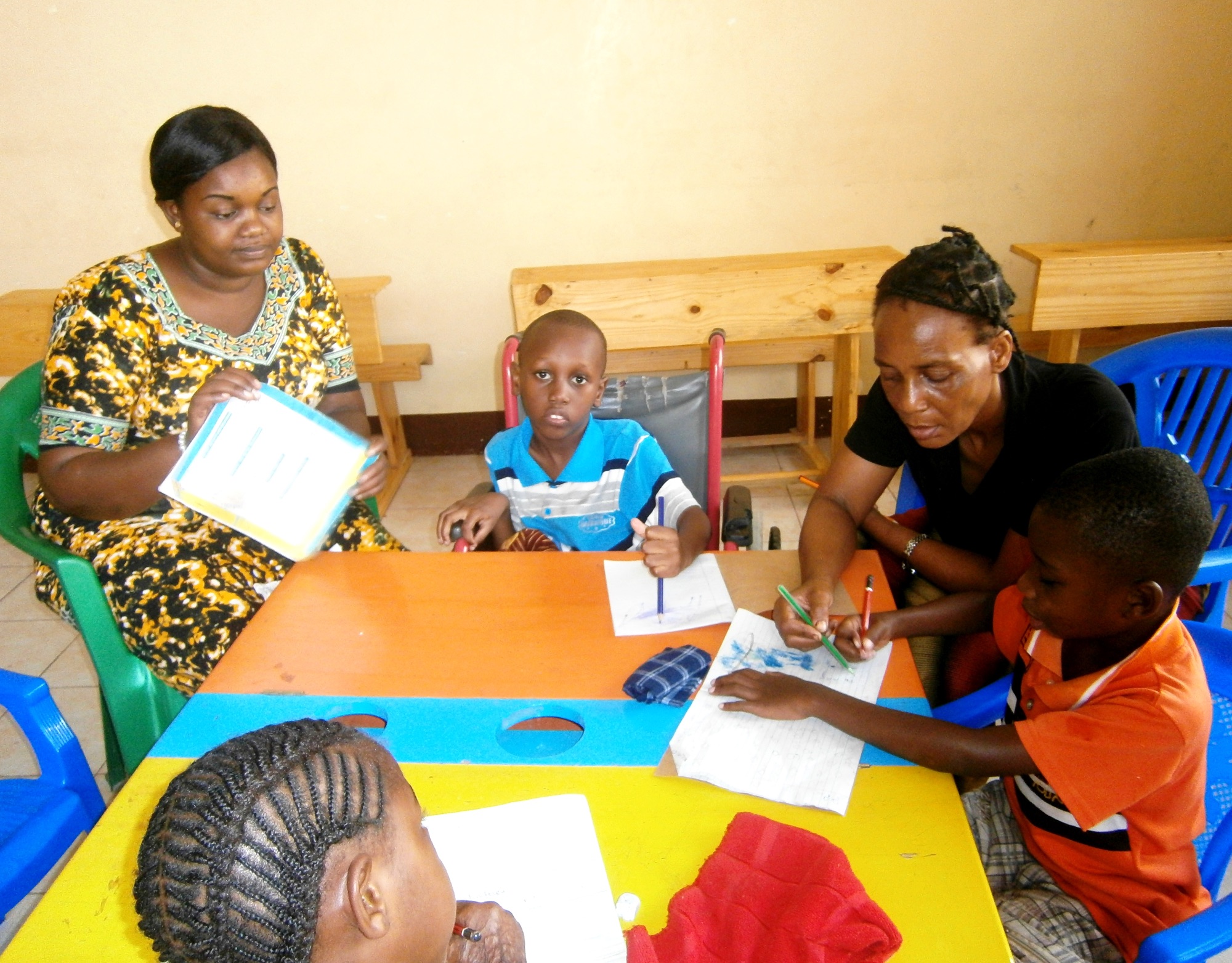 Children who cannot find a place in school are being given basic literacy lessons by volunteer helpers. Since we started 7 children are now attending regular school and a special classroom is being built for these children in Maji Matitu primary school through the generosity of some local women.
Some of their mothers are also taking advantage of this opportunity to catch up on their reading skills.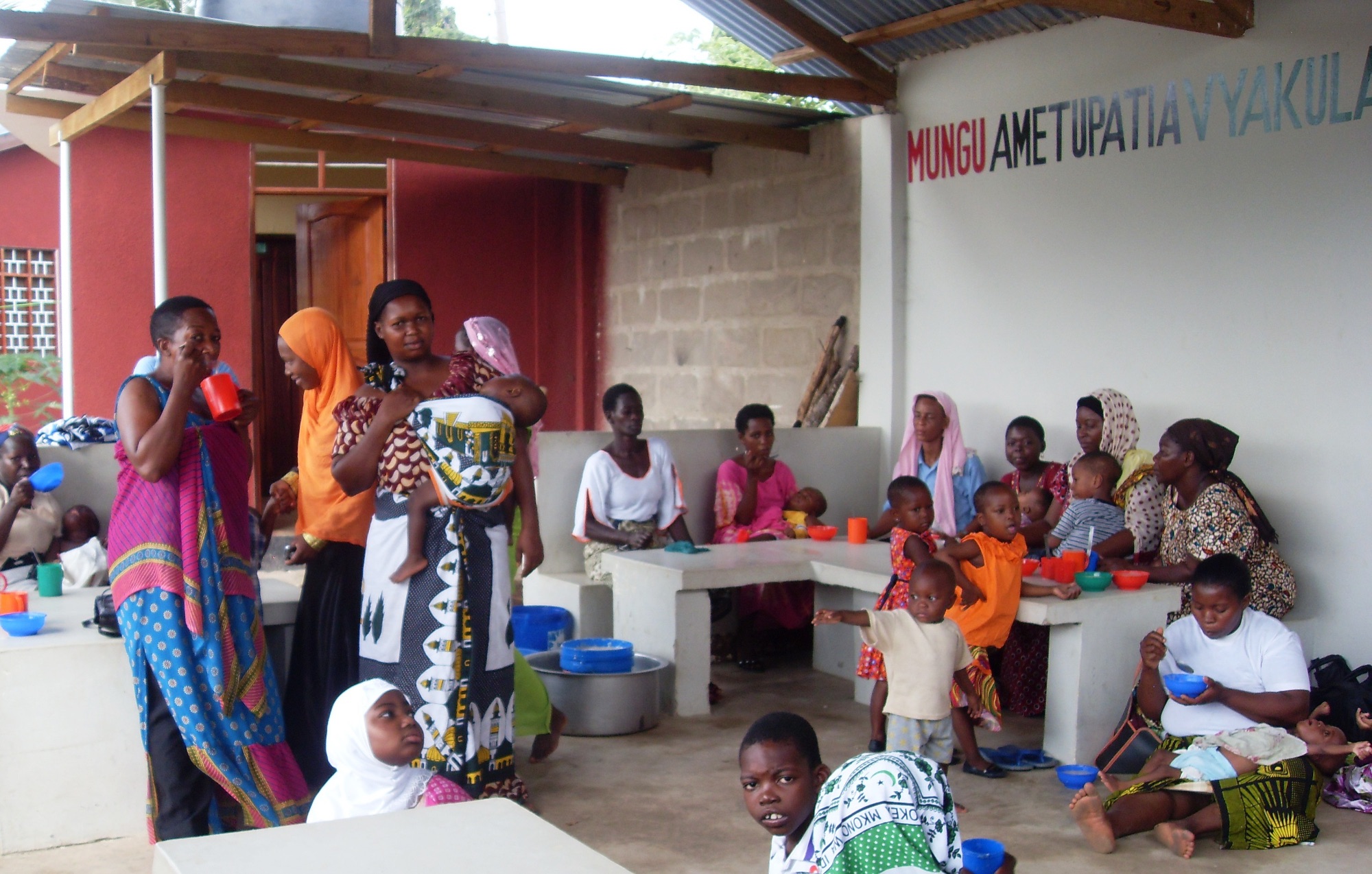 A simple meal of maize porridge enriched with milk, sugar, millet, rice, soya and groundnuts ground fresh locally is prepared daily for mothers and children. For some, this can be the only food they see from one day to the next.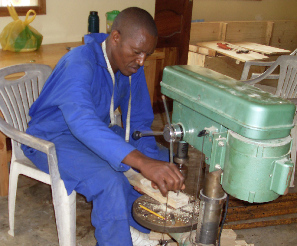 Maikol, a skilled technician, is kept busy making anything from prosthetic devices to exercise machines.

He even made the swings and roundabouts for the playground.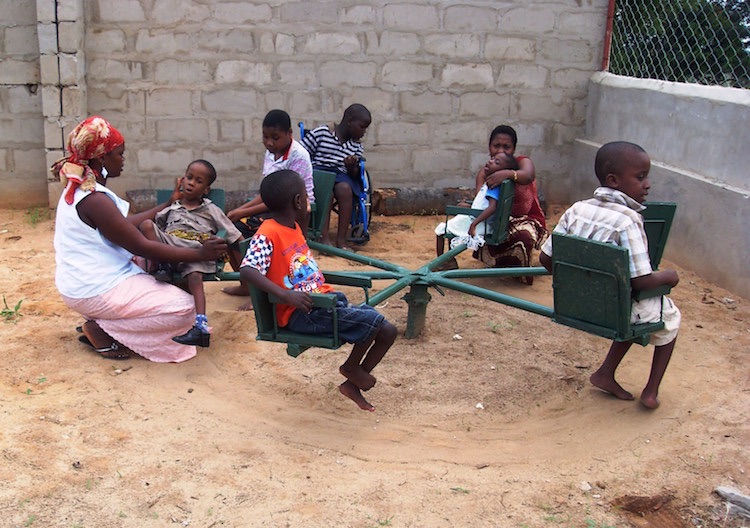 Children with disability are often hidden away and left to themselves. To be able to play together is something many will never have experienced, and the improvement in their condition can be a striking reward.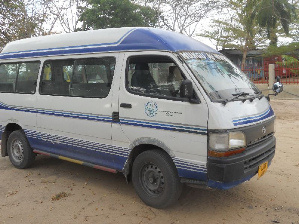 The Matumaini bus (funded by a generous donor) collects children who cannot make it to the Centre unaided. It takes children to their hospital visits, and acts as transport for outings and visits.
Income Generation Projects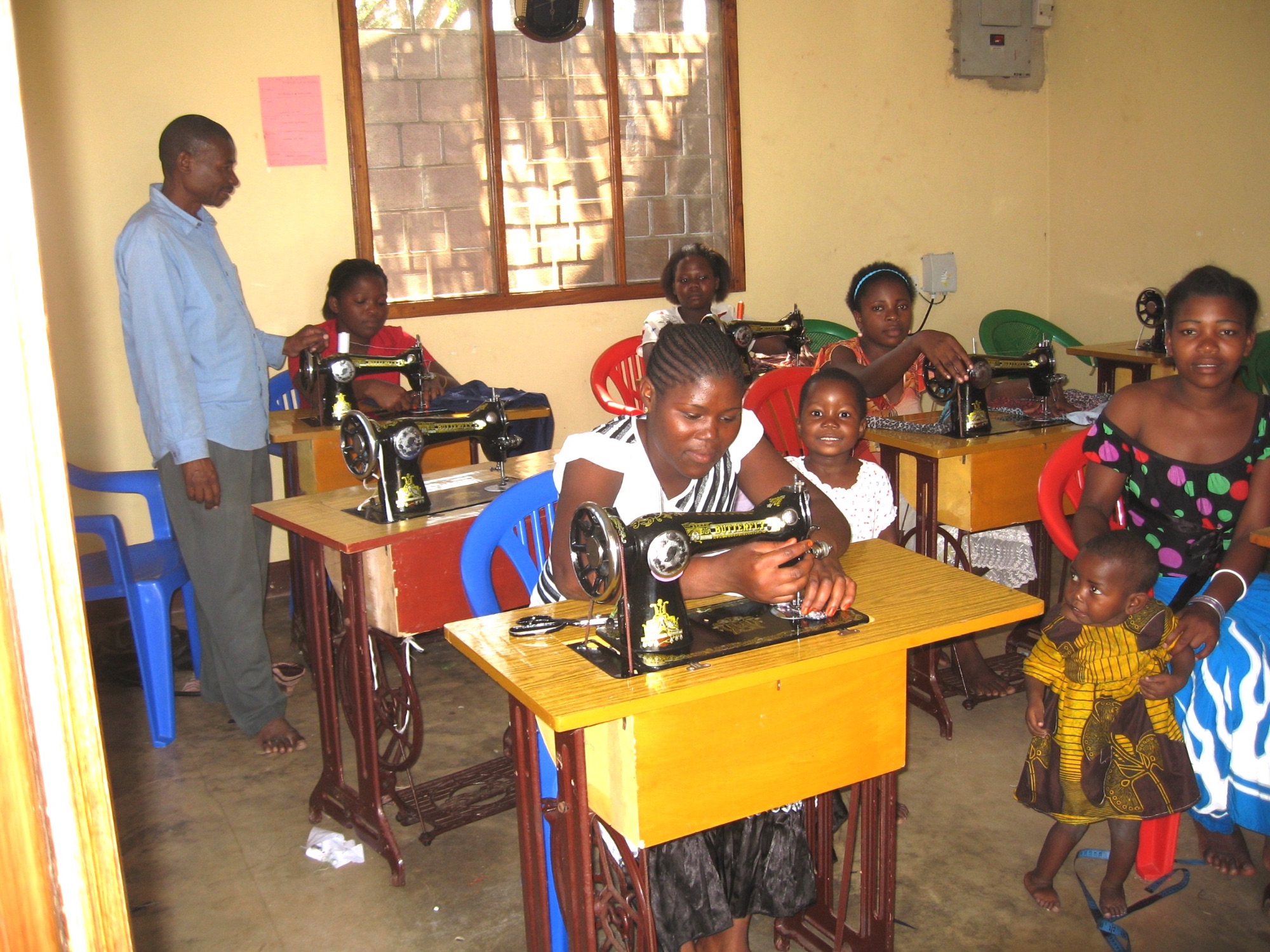 Mothers can attend a tailoring course which lasts six months and teaches basic sewing techniques and care and maintenance of the machine. When trainees reach a good standard, after taking a practical exam, they are given the gift of the machine they have been using to take home.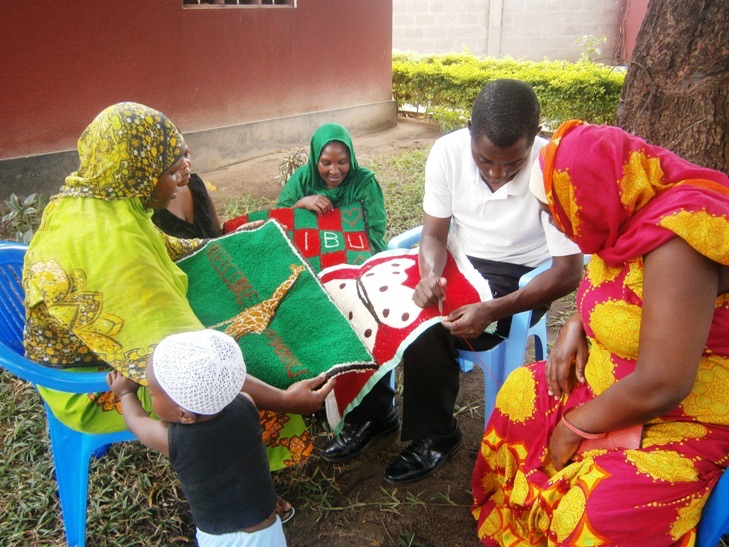 Other projects involve making small rugs and using charcoal dust with waste paper to make cheap fuel - all aimed at helping the women to become self-sufficient.
The garden is small but supplies small amounts of greens and fruit which is shared or sold.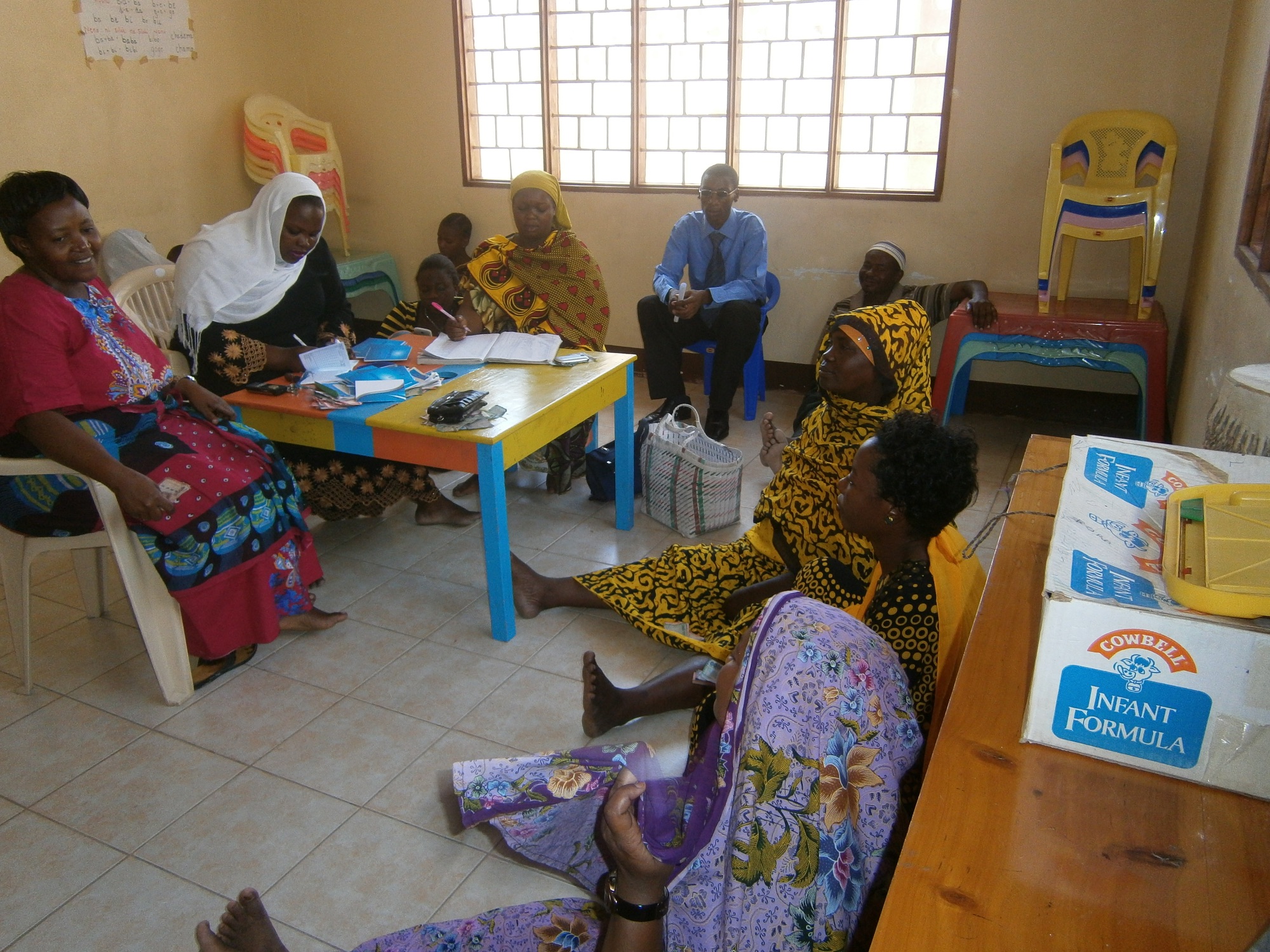 In order to assist the parents to save for emergencies such as medical needs and school fees, a credit union has been set up and is now being run most successfully by the Matumaini clients themselves.